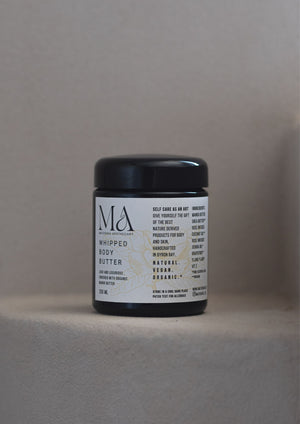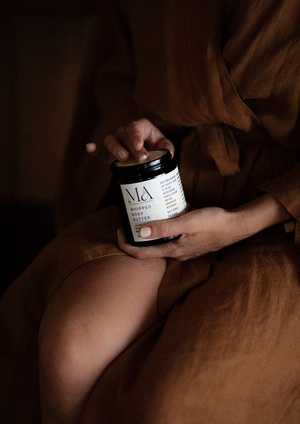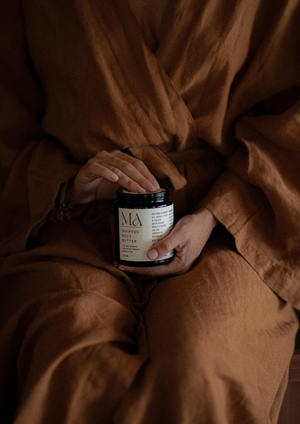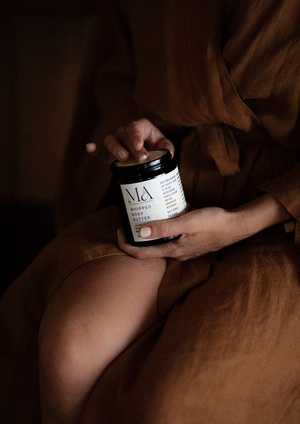 Matushka Luxurious Whipped Body Butter with Mango+Shea
LUXURIOUS. LUMINESCENT. NOURISHING.
*ORGANIC
This treasure is the ultimate hero of herbal apothecary Australia. It is guaranteed to give you the most luxurious feel of the skin. Pure elixirs of organic mango and shea butter, soft touch, super luminescent.
Created with a natural, gentle and decadent scent, infused with ylang ylang and rose petals. Nourished and moisturises dry skin on deeper level, layer by layer.
Highly recommended to be applied on damp skin after bath or a shower.
Ingredients: organic shea butter*, mango butter, organic coconut oil*, organic jojoba oil (rose solar infused), ylang ylang and grapefruit pure EO.
*Certified Organic
200ml
Black miron glass jar 
Please note the ingredients list, colour and texture may change slightly depending on a batch, refer to the label.
Patch test for allergies. 
How to apply:
Best applied after a bath or shower on slightly damp skin for an optimal absorption. Allow to fully absorb for a few minutes before dressing. 
BBD: 12 months since opening. Refrigerating will extend shelf life by another 6-8 months. All skin types.
Completely free of chemical additives and 100% vegan friendly and cruelty free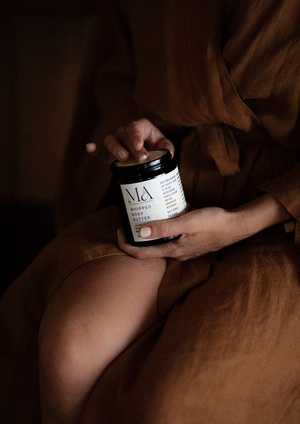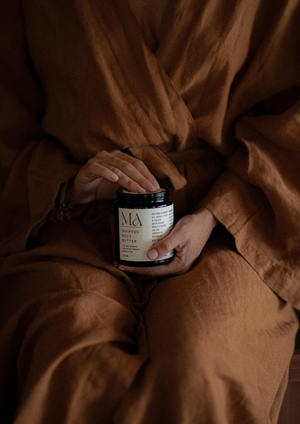 Smoothest skin!
The scent is incredible…and the way it leaves your skin so smooth and hydrated is just perfection. Love this and will be replacing as soon as I run out!!
Can't get enough of it
Absolutely magical and delightful to use. Its like my best skincare ritual to apply this all over my body. I am loving how delicate and nourishing this is and how perfect the texture of this product is... would buy again 100%
Delightfully magical
I can't believe I haven't found this product earlier!!! I simply adore the smell, the texture and how my skin feels after it!! Do not pass by this product and there is absolutely NOTHING LIKE IT out there!!! Obsessed
Melty goodness
I was worried this would feel too oily but it's sooo good. Smells too good, wish I could eat it haha Top tip: apply straight after showering while skin is moist. Love this body butter so much!
Very hydrating
MY GF bought this and I use it ALL the time! I get quite dry skin on my face and it feels very hydrating without being oily. Would recommend!