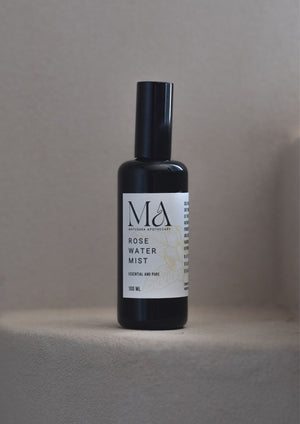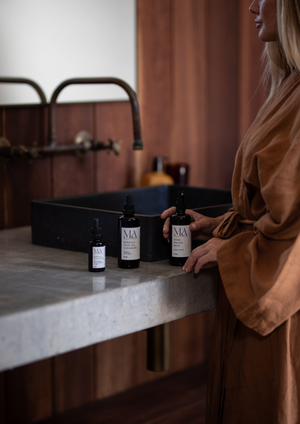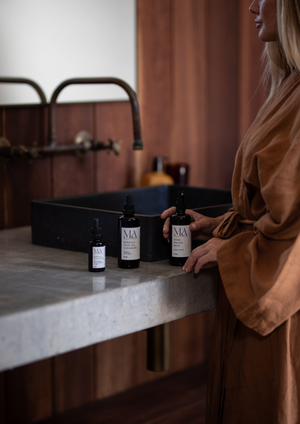 Matushka Premium Organic Rose Water Mist
Decadent Tonifier and Facial re-freshner
Everyone's favourite, Rose water has been known for its benefits for a long time, wide use and numerous benefits, one of the best skincare products known to us.
Imagine having a skin detox, toner and a misty glow all in one bottle! 
Rosewater hydrates and protects skin, giving it a supple and glowing finish. A potent source of vitamins A, C and E, rosewater is a natural source of antioxidants to protect against environmental toxins and UV exposure.
As an anti-inflammatory, rosehip soothes irritation and swelling and acts as an inhibitor of elastase and collagenase, which work to break down elastin and collagen, causing skin sagging and ageing lines.
Redness and sensitive skin benefits from rosewater, as do the skin conditions of eczema and rosacea. Rosewater also works to decrease pigmentation, tightening pores and reducing dark spots. It's your facial, laser and anti-ager all wrapped up in one gorgeous package.
Handmade. Vegan and cruelty free. Patch test for allergies.
NOT SUITABLE FOR INTERNAL USE. 100ml
Rose Water Benefits and Uses
Soothes skin irritation
Reduces skin redness
Helps prevent and treats infections
Contains antioxidants
Heals cuts, scars, and burns
Enhances mood
Relieves headaches
Ingredients: 100% pure premium quality organic rose water.
Black miron glass bottle 
Please note the ingredients list, colour and texture may change slightly depending on a batch, refer to the label. Patch test for allergies. 
BBD: 6 months since opening. Refrigerating will extend shelf life by another 6-8 months. 
How to use:
Apply any time of the day for deep refreshing skin hydration and glow. Perfect as a toner after skin cleanse. Pop in the fridge for an additional summer spritz feel.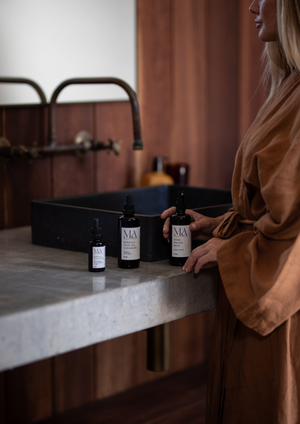 Refreshing!!
Smells absolutely divine & is SUPER refreshing on the face. Love this product.
A Party Favourite
Literally, a party favourite. My GF whipped this out mid-party on the weekend and started spraying everyone's faces. Was SUPER refreshing! Smells so good and makes you feel like you just got out of the shower. Can definitely recommend this one! Yew!
Hydrating & Smells Amazing!!
I highly recommend this product!!! It is soooo refreshing on the skin! Not to mention how incredible it smells, honestly. It's great as a 'pick me up' when feeling a bit flat or dehydrated, especially good if you're an office worker or on long commutes, or really, any one! I use this in my car, after a workout, when I feel a bit flat, when I just feel like it haha The smell instantly allows me to relax. Get yourself a bottle now!
Beautiful toning mist
What I love most about the organic rose water mist is how delicious it smells and how hydrating it feels on my skin. I use it as a toner, hydrating mist and to clense my face whenever I need a reset. I take it everywhere!! Highly reccomend this beautiful product. Xx
Walking through a rose garden
What a treat to spritz. It quenches my dry skin and uplifts my heart. Such a simple, beautiful way to elevate your morning ritual. Gorgeously packaged in miron glass too.