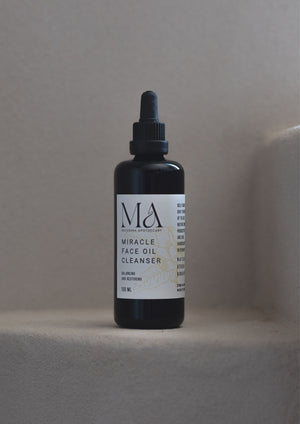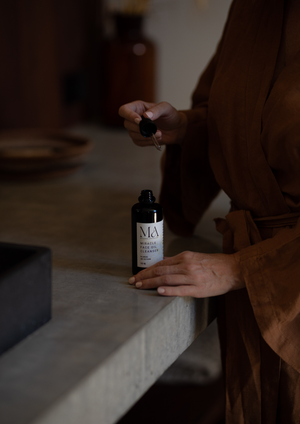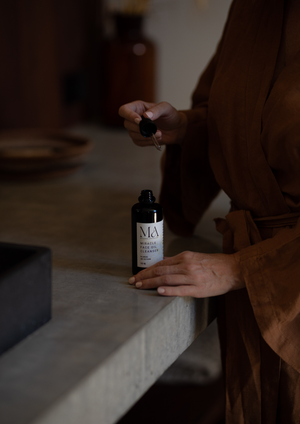 Matushka Miracle Oil Face Cleanser
Cleansing. Nourishing. Caring.
This exclusive oil based cleanser will purify every pore of your skin leaving it soft and glowing, ever so nurtured, a true gem of Australian skincare. It's especially formulated to protect from sun damage with grapeseed and castor oil to restore natural moisture by locking it in, as well as it's anti inflammatory properties to prevent acne and redness, while protecting skin from daily make up and dirt exposure. You'll love the way your skin feels, without drying or scrubbing, simply apply on cotton ball and lather over slightly moist skin of the face and décolletage. 
100 ml
Ingredients:
Almond oil*, castor oil*, grapeseed oil, lavender ess oil. 
* CERTIFIED ORGANIC
How to apply:
Use a cotton pad to wet with a few drops of cleanser and clean wipe the whole face and décolletage area. Optional water rinse before and/or after. Use Rose water as tonifier and apply your moisturiser. Suitable for all skin types. Day and night.
BBD: 12 months since opening. Refrigerating will extend shelf life by another 6-8 months.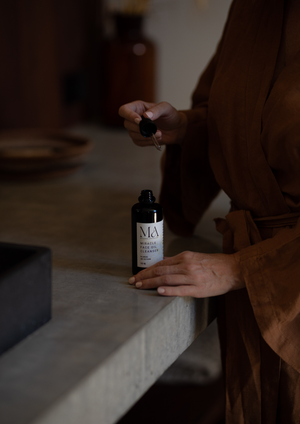 Miracle oil face clenser
I've been using Matushka products for a while now and thought I would try the oil face clenser. I usually wouldn't go for an oil clenser as my skin tends to fall on the oily side however I absolutley LOVE this product.. it doesn't leave my skin oily at all and I was impressed at how clean and soft my face felt after using. This paired with the organic rose water mist is a dream duo!! Xx
Essential
I have never thought how important cleaning your face would be but this product changed my life. My skin is looking fresh and radiant and lavender smell is so calming, I love it so much!
A must have
This face cleanser has been a real game changer for me. I used to try every product out there and my skin would always have a reaction but with this product being so gentle, my skin has completely cleared and looking better than ever before! I would recommend it to everyone.
For me, it took a little getting used to initially, as this feels thicker than my other (mild) oil cleanser. However, after using this for a week, I find it to be very soothing and effective. This cleanser is perfect especially on days when I'm red from the sun and need to be ever so gentle with my skin. It definitely calms my skin and removes sunscreen well, while smelling nice and feeling luxurious all at the same time 😄 what a treat!
Perfect for oily skin!!
I didn't want to believe when I got told to use an oil based cleanser as I've got an oily skin but it actually works!! It works better than any other cleanser I've used before. My skin is clearer and the breakouts went away, the redness and acne is reduced just after a week. So glad I found it!!