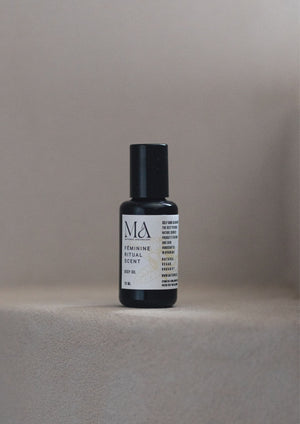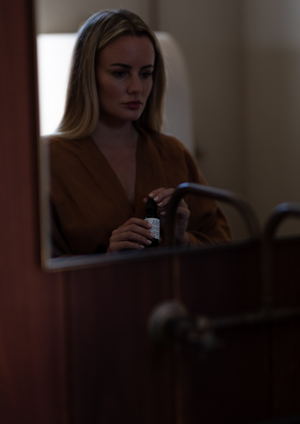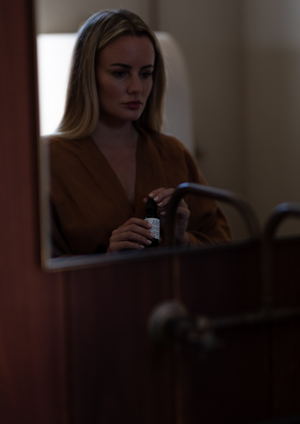 Matushka Fèminine Body Scent
'Inspired by women, for women...'~
Empowering. Charming. Embodied.
An exquisite empowering blend, using the soft notes of ylang ylang and lavender, freshness of grapefruit with a touch of grounding herbs like clary sage and dark patchouli, realign your energy and come to a place of peace, a subtle addition to your skincare beauty routine.
Apply daily as a ritual on chakra points or wrists and the décolletage.
Ingredients: 
rose infused
coconut and jojoba
oils**
top notes: YLANG
YLANG,LAVENDER
Heart: CLARY SAGE,
GRAPEFRUIT
Base notes: ROSE
GERANIUM,
frankincense
patchouli dark
*pure essential oils
**ORGANic
*pure essential oils
*Certified Organic
Handmade. Vegan and cruelty free.
Patch test for allergies.
External Use Only. 10ml
UV miron glass bottle with a roller applicator.
BBD: 12 months since opening. Refrigerating will extend shelf life by another 6-8 months. 
Please note the ingredients list, colour and texture may change slightly depending on a batch, refer to the label. Patch test for allergies.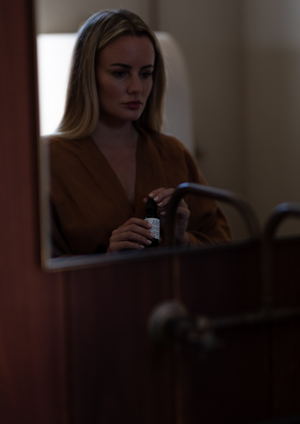 Best purchase ever
I feel like this is the best most natural body scent I've ever tried, it makes me feel very feminine and everyone comments on how lovely I smell. It's divine!
Awesome!
I don't know how you guys do it, but this the best product, the quality of the oils is just incredible, I use this every day and it just goes so well with any occasion
The best!
This product has been always in my bag since I got it, all my friends ask here it is from and I am so happy I found it, it smells divine!
Super!
I use this as a ritual and sometimes on my body, it has a heavenly smell and I absolutely love it!
Best product!
This body scent is the best scent I've had for ages and it lasts and I love that it's all natural. I am just in love!