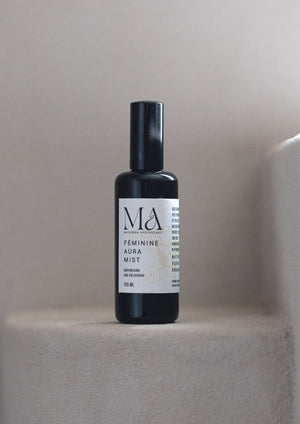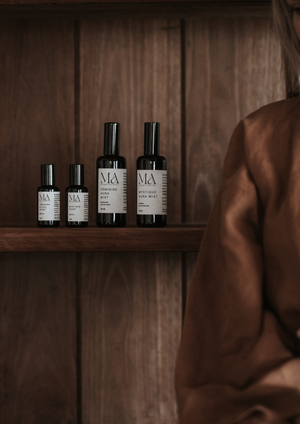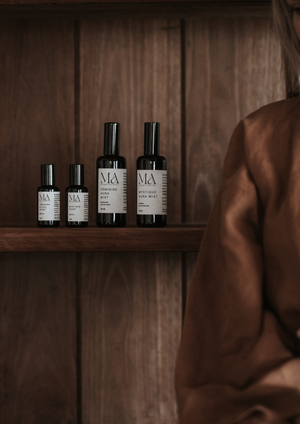 Matushka Femininè Aura Mist
Gracious. Empowering. Mystified. Ritualistic 
Specially handcrafted feminine body aura mist is a perfect addition  to your skincare routine, it will surely leave you feeling grounded, empowered and embodied. in your feminine nature. Made with rose water and pure essential oils of ylang ylang, clary sage, lavender and rose geranium, this mist will protect your aura and leave you feeling blissed out in your pure essence of love and serenity.
'Made with a loving intent for women to take care of themselves, to create a ritual of self love and draw awareness to the subtle changes in the body mind when we allow it to relax and surrender....'
Ingredients
100% pure rose water
clary sage*
ylang ylang*
pink grapefruit*
patchouli dark*
frankincense*
vit E
*pure essential oils
Handmade. Vegan and cruelty free. Patch test for allergies.
100ml
Black miron glass bottle
BBD: 12 months since opening. Refrigerating will extend shelf life by another 6-8 months. 
Please note the ingredients list, colour and texture may change slightly depending on a batch, refer to the label. Patch test for allergies.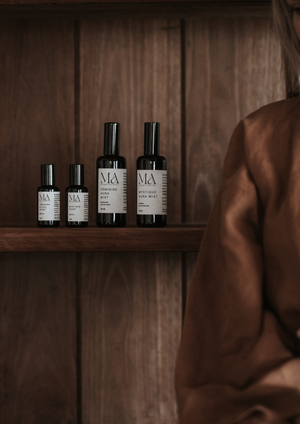 Highly recommemd
How can something smell so good? Highly recommend.
My girlfriend loves this
My GF told me I should write a review because I always mention how good this smells when she sprays it! I don't spray this on me, but can recommend to all the ladies as this mist is dope!!
Luxurious & Energy Boosting
You wouldn't imagine that a mist could make you feel so good! I use this as an 'energy boost', a 'pick me up', a 'refreshing spray', a 'perfume'... I love it for everything! It smells divine and makes me feel so happy. Highly recommend this product!! I've already gifted to many of my friends.
Fabulous scent
I am in love with my new mist!! It has such a nice smell and the quality is pristine, best buy ever!
So beautiful
I never used a mist before this and I am simply in love! Its divine smell makes me want to bathe in it all day and the fact that it has rose water is so good for your skin!!!