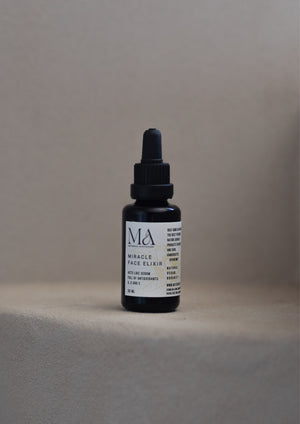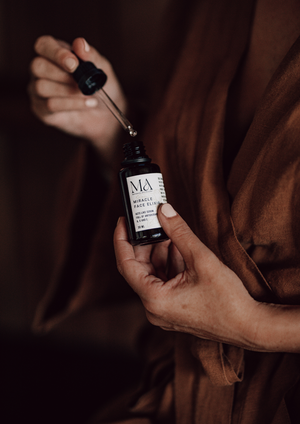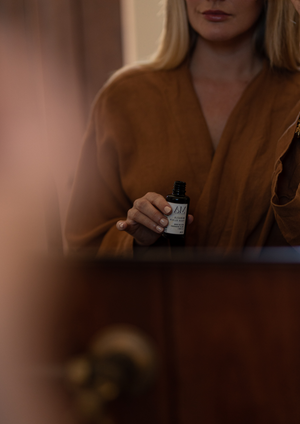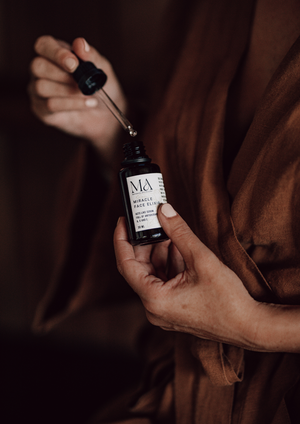 Matushka Miracle Face Elixir
Magical. Healing. Glow getter.
Pure magic for your skin.
Created with rose and sun infused jojoba and coconut oils, purified with crystal energy and charged with full moon energy- a pure ode to yourself. Pure essential oils of rose geranium, evening primrose, almond and carrot seed. 
Suitable for all skin types.
SKIN BENEFITS
Promotes cellular regeneration
Reduces blemish outbreaks
Reduces acne scars and marks
Hydrates dry skin/balances oily skin
Anti-ageing
Anti-inflammatory
Reduces itching and irritation
Smoothes dry patches
Purifying
Antioxidant action
Ingredients: rose and solar infused jojoba* and organic coconut oil*, evening primrose oil, carrot seed, lemon, almond oil*, rose geranium, juniper berry. 
*Certified Organic
Completely free of chemical additives and 100% vegan friendly. 
Black miron glass bottle 30 ml
Please note the ingredients list, colour and texture may change slightly depending on a batch, refer to the label. Patch test for allergies. 
How to use:
Apply on damp clean skin morning and night for full hydration and restoring. Can leave as is or apply night/day cream on top. Can be worn under make up. Super absorbent and light. 
All skin types
BBD: 12 months since opening. Refrigerating will extend shelf life by another 6-8 months.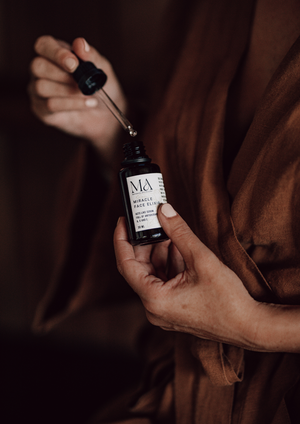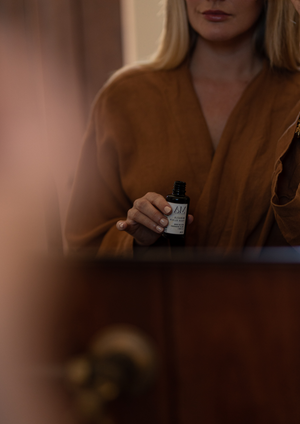 I am obsessed with Matushka Apothecary skin care
I use it at night time when I feel like my skin is craving that extra oomph of hydration after long summer days out in the sun. I wake up in the morning with happy grateful well hydrated skin. Especially recommend it when you are having those cheeky couple glasses of wine with dinner and are keen to skip your usual strict 10 steps beauty regime. I'm telling ya guuuurl, sometimes less is more.
Radiant and silky
My skin felt fresh and silky smooth from week one of using this product. I love the light texture and feel on my face, the smell is absolutely divine also.
Magical Elixir
Hands down the best face oil I have tried. It's non greasy, absorbs right away and my skin has never felt clearer!
A miracle product
Wow, I LOVE the way this has transformed my skin! I've really noticed a difference in hydration this past fortnight since using this product morning & night. Will never go back to a moisturizer. Definitely recommend.
Doesn't feel oily & smells good
Thought this would feel too oily, but it doesn't. My GF bought this one too and now I use it most days. Smells incredible and feels so good on the face, would definitely recommend it to the lads and ladies.